Obituary for Myron Curtis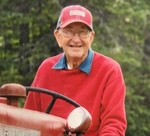 Myron Lee Curtis, 84, passed away at his farmhouse in Edmunds, Maine, on January 2, 2018, surrounded by love. Myron was born on March 18, 1933, on the family farm, the fifth child of Lyman Lee and Irene Isabel (Smith) Curtis.

Myron attended school in Edmunds. On January 12, 1952, he married Elizabeth Julia Gardner, and they began their married life in Whiting, Maine. Soon after, they moved to Edmunds and started farming. Even though Myron was self-employed, his first love was farming. He was happiest when he was driving his Farmall 240 and baling hay with his family. Some of the many jobs he held included milking cows for Edgar Bagley; sawing lumber at Hallowell's Lumber; cutting wood for Georgia Pacific; plowing and sanding the roads in Edmunds for more than fifteen years; working for the Mearl Corporation, Holmes Packing Company, Connor Brothers, and Maine Central Railroad in Eastport for about twenty years; running a campground; and, along with his wife Betty, owning and operating C & M Fuels for more than twenty years. Myron was never afraid of hard work, which was evident when he began butchering farm critters, pumping/cleaning/ installing septic systems, and doing foundation construction. Betty was by his side, assisting with whatever needed to be done with Myron's ventures.

Myron was a member of the International Order of Odd Fellows for a number of years; he and Betty were members of the Easternmost Promenaders for several years, and Myron was very active in restoring the fair association in Pembroke in the 1980s. Myron attended the First Baptist Church in Pembroke.

Myron was predeceased by his daughter, Priscilla Joyce, in 1952; and by siblings Keith in 1983, Donald in 2004, Richard in 2007, Alton in 2013, Alma Curtis in 2013, Raymond in 2014, and Barbara (Curtis) Gaylord in 2017, just three days prior to his death.

Myron is survived by his wife of 65 years, Betty Curtis; his daughter Helen and her husband, Ronald Kilby, of Edmunds; his son, Charles Curtis, of Perry; and daughter Gladys and her husband, James Robinson, of Edmunds. Myron dearly loved his grandchildren Emily (Curtis) Van Ormer, Nancy Curtis, Billy Curtis, Michael Kilby, Sr., Michelle (Kilby) Curtis, Benjamin Robinson, and Brooke Robinson; his great-grandchildren Rylan, Kagan, and Londyn Curtis, Michael Kilby, Jr., and Elayna Van Ormer, and several cherished nieces and nephews. Myron is also survived by a very special family member, Eileen Dougherty, who was his all-time favorite nurse and caregiver.

A memorial service will be held at a later date. Arrangements by Mays Funeral Home, Calais, Maine.

Order Flowers